There are two things you will encounter when you dive into the pit holes of WordPress. The first is you will have to activate a theme. The second one is that you will have to install a WordPress plugin.
A WordPress plugin is a program that runs within a WordPress installation that extends or alters the core functionality of the CMS.
There are two main ways of installing a plugin in WordPress. We will be highlighting the methods below.
Install a WordPress Plugin From the Dashboard
This is the default and easiest method of the two. It is also our recommended method for most solutions. It also allows you to choose from thousands of plugins available through the dashboard.
To get started, you would need to sign in to the WordPress admin dashboard. From the left-hand menu, go to the Plugins node then press the Add New button.
On the Add New Plugin page, you may browse plugins based on the tab category. These categories are, Featured, Popular, or Recommended. You may also use the Search Plugins text field to find the desired plugin using keywords or plugins' names.
Once you identify the desired plugin you may click on the More Details link to get more information about the plugin.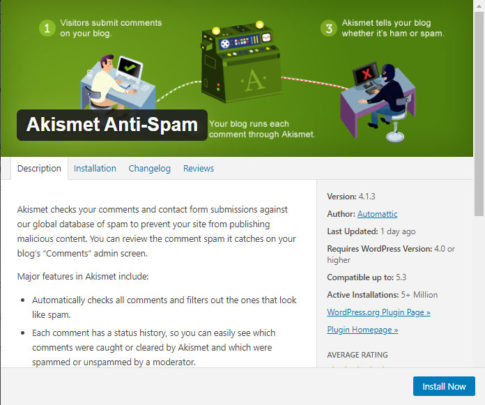 If all looks good you can install the plugin using the Instal Now button in the plugin card. After successful installation, the button will turn blue and be labeled Activate.
Click on the button to start using the plugin. Some plugins will require additional configuration through a settings page. As earlier mentioned each plugin has its features so the details of how to configure each plugin is dependent on the individual plugin.
Install a WordPress Plugin From a File
The second way to install a WordPress plugin is provided for very good reasons. Sometimes you may not find a plugin that does what you would like it to do. In this case, you will have to upload a plugin from an alternate source such as a professional plugin developer.
Custom plugins in WordPress can be installed by uploading a conforming zip file. From the same plugin installation page in the dashboard, press the Upload Plugin button and follow instructions to upload the zip file.
WordPress will install the plugin and if it meets the minimum requirements your plugin will be listed under the Installed Plugins sections where you can activate and configure it as desired.
Those are the two main ways you can install a WordPress plugin for use on your website.
Found this article interesting? Follow Brightwhiz on Facebook, Twitter, and YouTube to read and watch more content we post.